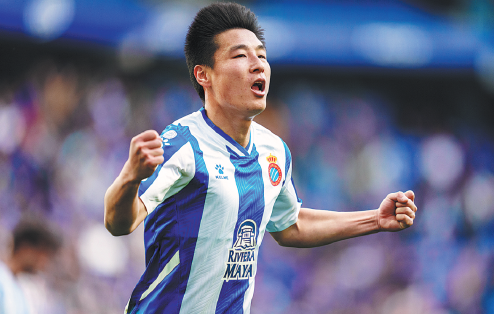 Team China ace confident he can extend career in Spain after ending long Espanyol goal drought
Through all his tough times at Espanyol, Wu Lei can never be accused of letting his head drop. So when chances do eventually come the striker "s way, he is always ready to pounce.
Wu did exactly that on Sunday, notching a late winner off the bench against Celta Vigo to end a 666-day league goal drought that extended back to June 13, 2020.
The goal was the best possible answer to critics who have suggested that Wu should look elsewhere to revive his career amid his struggles in Spain.
"For me, I'm always confident in myself. That's because I know that as long as I can step onto the pitch, no matter if it's five minutes or 10 minutes, I can create chances to score," Wu told a media conference in Spain on Wednesday.
"As long as I can contribute in that way, I'm satisfied with myself. So all I need is to score goals. I think the future can be better and better, and I can contribute more to the team."
Wu's winner on Sunday became trending news on Chinese social media, with fans hopeful it is a sign there is more to come for Wu in Spain, despite stats of one goal and zero assists over an average playing time of 20 minutes per game this term.
"I'm so happy to score and help the team. Right now the team is in a good position in the league, and we're all aiming for more victories, so we can finish the season as high up the table as possible, said Wu, whose Espanyol team is currently 11th in La Liga with seven games remaining.
"Of course, my playing time has been very limited for a while, so it's been pretty tough for me. But I want to thank the fans who have been supporting me since the first day that I joined the team. I want to thank my head coach (Vicente Moreno). He trusts me and has confidence in me.So I train very hard on a daily basis.
"Whether it's just five or even a single minute on the pitch, I will try my best to help the team. I'm very happy with my time at Espanyol. This is a very united team and everyone is fighting hard for the same goal "Everyone is very nice to me, and it is a great family."
Wu joined Espanyol in 2019 after helping Shanghai Port (then known as Shanghai SIPG) win its first Chinese Super League title. He excelled in his first season at the Barcelona-based club, becoming the first Chinese player to score in La Liga and helping the team rise from relegation trouble to Europa League qualification.
However, since 2020, it has been a rocky road for Wu, with the forward falling down the pecking order as Espanyol was relegated and then promoted back to the top flight.
For all his setbacks in Spain, however, Wu's star has never dimmed for Team China, with his fine form one of the few positives for his country in an otherwise miserable World Cup qualification campaign.
Team China played the last of its Qatar 2022 qualifiers in March - a 2-0 defeat to Oman that saw it finish fifth in the six-team Asian zone Group B, and was indicative of just how far Chinese soccer has declined in recent years.
Wu's goal in Spain last week, therefore, came as a boost for fans back home, acting as a timely reminder that China is capable of producing players good enough to mix it with the best in the world in one of Europe's major leagues.
"It's great that Wu Lei still maintains a positive mindset and fights until the end. As a substitute for Espanyol, one goal may not change everything, but we can all be certain that Wu will keep trying and seize any opportunities that come his way. When people doubt you, the best solution is to simply try the hardest you can, "sports commentator Han Qiaosheng wrote on Weibo.
Although his first-team minutes have been limited in recent seasons, Wu's presence in Spain's top flight is still widely viewed as beneficial to the development of the Chinese game. He has always maintained that - warming the bench or not - he has become a more complete player thanks to his experiences in Europe.
"In Spain, soccer is an indispensable part of people's lives. You can go to any restaurant for breakfast and you will hear everyone talking about soccer, no matter what their age or profession," said Wu.
"Soccer is in their blood. If we had lost this week, you would have heard people criticize you on the street. But the next week when there's another match, they will for sure come to support you again.
"Before I came here, I knew Chinese soccer was behind the world best, but I did not realize just how far behind it was.
"I'm lucky to play in La Liga. For sure I want to stay here as long as possible, but I do not have a specific goal to say how many years I must spend here. As long as I still have the skills and can contribute to the team, I will continue to play here. "