Alex Neil walked into his post-match press conference cradling a can of Budweiser and he will not be the only one of a Sunderland persuasion to enjoy the next few days. If London did not already know it, Sunderland are in town and back in the Championship after four long years away.
On Friday night, thousands of supporters, as they have done previously, took over Trafalgar Square, where they were joined by their owner, Kyril Louis-Dreyfus, and on Saturday afternoon more than 46,000 painted more than half of this arena in red and white , bobbing as they waved flags, almost all bedecked in club colors, to crank up the volume as Sunderland made it over the line.
Then came a rendition of Elvis Presley's Can't Help Falling in Love, the club's unofficial anthem. Saturday night? Many will still be paying for that on Sunday morning.
After their three previous playoff finals ended in misery, the last of which was three years ago against Charlton, this time there would be only joy. Sunderland made relatively light work of beating an organized Wycombe side and the only thing that came close to disrupting things was the sickness bug that meant Bailey Wright traveled separately to his teammates, arriving by helicopter on Friday.
A rasping strike by Elliot Embleton, who joined the club aged seven and was once a season-ticket holder at the Stadium of Light, got Sunderland up and running as Wycombe were forced to weather the storm but Ross Stewart, who earlier nodded wide from a fine Alex Pritchard cross, sealed victory 11 minutes from time, stroking a low drive into the corner. Neil's near-impeccable record since taking charge in February now reads one defeat in 18 matches. Fittingly, Things Can Only Get Better blared a few minutes after the final whistle.
"People love sticking the boot into a fallen giant," he said. "'You should not be where you are, this is crap, that is crap.' It was a challenge for me to come here because it has hoovered up managers in the last four or five years. I felt after I left Preston [in March 2021] that I needed to show everybody what I could do. I'm extremely satisfied that I've managed to deliver so much to so many people that it really matters to. It has been tough for the club in the last few years. "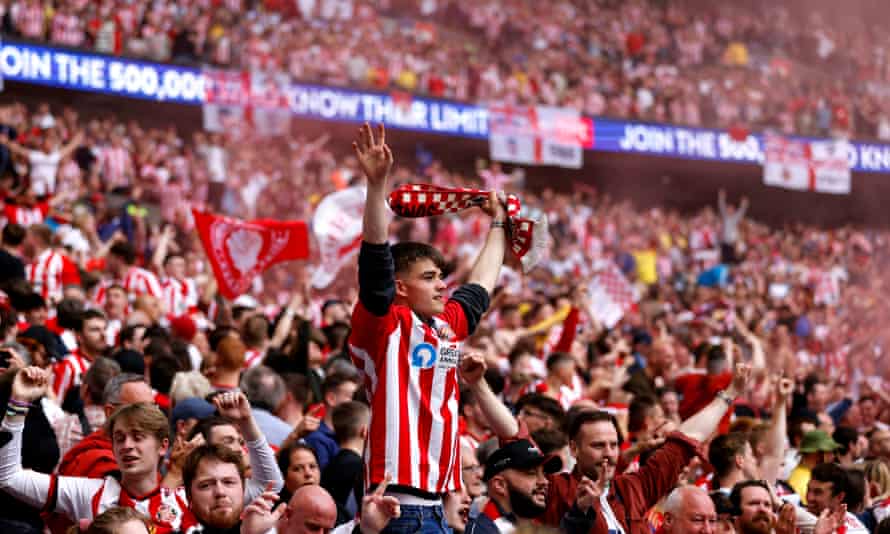 Wycombe started nervously and Pritchard's early free-kick, which rattled the side-netting and fooled a section of supporters at the opposite end, set the tone for an aggressive Sunderland performance. Embleton opened the scoring after powering clear of Jason McCarthy and Josh Scowen on halfway, taking three more strides and proceeding to smack the ball at goal with the laces of his right boot, just as it sat up nicely 25 yards out. The Wycombe goalkeeper, David Stockdale, appeared powerless and lay face-first on the turf after the ball flew past him.
Sam Vokes squandered Wycombe's big chance on the hour, fluffing his lines after controlling what should have been a harmless diagonal ball by Anthony Stewart, which Wright badly misjudged. Vokes got the ball under his spell but shot straight at the Sunderland goalkeeper, Anthony Patterson, another homegrown hero.
Sunderland protested for a penalty when Patrick Roberts was sandwiched in the box by Stewart and the Wycombe captain, Joe Jacobson, who eventually raked the ball clear. But Stewart would settle any lingering nerves, moments after the Wycombe substitute Brandon Hanlan failed to test Patterson after running through on goal.
Wycombe were gracious in defeat; their manager, Gareth Ainsworth, arms clasped behind his back, stood proud on the pitch and applauded as Sunderland's players played pass the parcel with the winners' trophy in the royal box before it reached Neil, who lifted it overhead to rapturous applause, clouded by the silver confetti that twinkled in the sky.
Ainsworth is adamant Wycombe, without the 40-year-old Adebayo Akinfenwa, whose farewell culminated in a 15-minute cameo off the bench, will be fighting for promotion next season. "I could not have better owners,"
Ainsworth said: "You've got all your sheikhs and billionaires. Give me Pete and Rob [Couhig] any day. I'm proud to be the Wycombe manager.