Meanwhile, here's what happened in the other Europa League semi-final:
Read Ewan Murray's match report from Germany
We'll have a match report here for you very soon indeed. Thanks for your company – and make sure you're back here next week!
Joe Aribo speaks:
I think all in all the boys are disappointed. We thought we could see the game out but there's still a big second tie and we're ready to go and beat them at Ibrox. We just wanted to stay compact and make it hard for them to break through us, and we did that. They did not have many chances but they got that late goal.

It was all about concentration and hard work, the boys needed to give their all and that's what we did. I felt we could have got a goal, we had a few half-chances but just did not get the break of the ball. We'll take in the pointers the boss wants us to do in order to get the win at Ibrox. We know what can happen.
Jarrod Bowen cracked the bar at the death for West Ham … but they lost 2-1 to Eintrachtso we are currently on for an all-German final.
I should have mentioned earlier Leicester, who drew 1-1 with Roma in the first leg of their Conference League semi.
A result, then, that both sides will find reason to be encouraged by. Rangers did open up more in the second half – Kent's cross-shot was their best moment – but a below-par Leipzig created more too and Nkunku missed a couple of big chances, one a quite amazing sitter. So the result was fair but, with a bit more attacking thrust at Ibrox, there's no reason this can not be reversed. It's still on.
Full-time: RB Leipzig 1-0 Rangers
A stunning late winner from Angelino was a sickener … but not * too * much of one. Rangers are still well in this tie and the second leg next week is set up to be a belter!
90 + 3 min: Well, one card becomes two. Tavernier is now given a yellow and Rangers must defend one last tricky set play from wide on the left. They do.
90 + 2 min: A late booking for Goldson, the first of the game.
90 + 1 min: We are in the first of three added minutes; Rangers' task now is, really, to make sure one goal does not become two.
90 min: Leipzig introduce Poulsen for Nkunku and Mukiele for Henrichs.
88 min: On the balance of chances, Leipzig do deserve this lead – Nkunku should, as we know, have scored at least one. But Rangers were so close to taking them back to Ibrox on level terms.
Goal! RB Leipzig 1-0 Rangers (Angelino, 85)
Oh, what a goal. The corner, from the right, is headed out towards the edge of the box and Angelino, coming onto the ball to the right of center, leathers a * beautifully * executed, technically perfect left-footed volley across McGregor and in. The crowd go wild … Leipzig have what could be a crucial advantage, and in some style.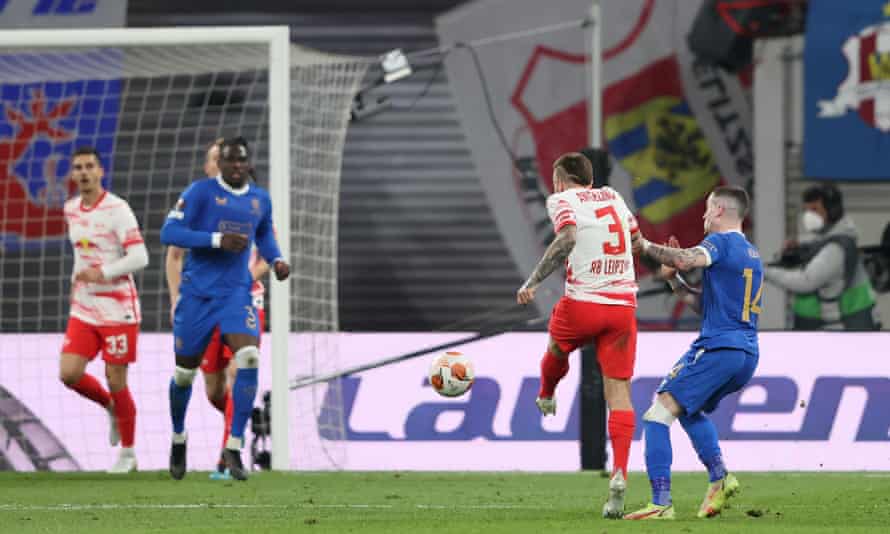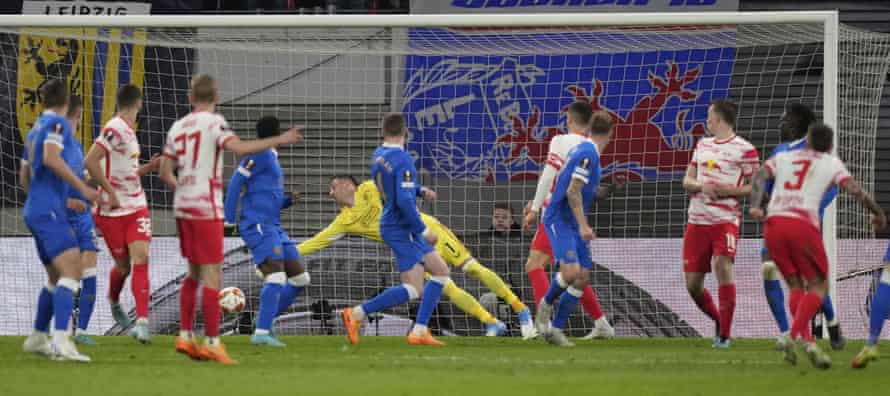 84 min: One of Leipzig's best moves, as Nkunku touches on for Adams … only for McGregor to tip his flashing drive over! But then …
82 min: Plaintive cries for a penalty as Laimer and Henrichs both tumble … but there's not a lot wrong there from Barisic, the nearest Rangers player. Meanwhile, a double chance – Arfield for Jack and Sands for Aribo.
79 min: Nkunku nearly does, heading over at the far post after a cross beat Bassey. It's a really good chance actually, though not in the league of his earlier one. He should probably have scored.
78 min: Tavernier surges out after dispossessing Forsberg, but Sakala does not read his attempted ball in behind. But Rangers come again and Barisic, making a rare burst deep into Leipzig territory, delivers a cross that Sakala can not get behind at the near post. And * then * Jack lashes well over from ranger. The visitors could not … could they?
76 min: Kent has a dig from a decent angle and Gulacsi saves, patting it down. Rangers have been much more proactive in this half, even if that's not saying a great deal.
74 min: Maybe that was the moment Rangers got the stroke of luck that wins ties. Leipzig will surely not get another chance * that * good.
71 min: Oh my word, WHAT a miss from Nkunku! You'll be seeing that a few times in the morning. He dances around McGregor and, even though there are covering defenders, looked nailed on to convert from about 12 yards. But he blasts well over … quite incredible. Leipzig make two changes, Forsberg and Silva on for Szoboszlai and Olmo, but Nkunku will have nightmares about that.
70 min: Aribo and Kent fashion a very promising break, but Kent seems to lose his nerve inside the box and ends up neither taking anyone on nor trying a shot. Leipzig clear.
69 min: More audible annoyance from the home faithful as Henrichs plays a sloppy ball back towards Laimer that Kent cuts out. Now Rangers make a sub – Wright off, Sakala on. Can he give them some attacking thrust?
66 min: Do I hear a few whistles from the home fans as an attacking move splutters? I think I do. Music to Rangers' ears.
64 min: Another run for Kent, who squares for Jack on the edge of the 'D'. It should be a shooting chance but Jack's touch is loose and the ball squirts away.
62 min: Laimer spoils another good run with a weak daisycutter straight at McGregor, when there may have been better options.
61 min: Laimer forces Kamara into a hasty pass inside his own half. Leipzig are certainly trying to crank things up to the tempo we associate them with.
59 min: Eintracht now lead 2-1 at West Ham …
58 min: Leipzig, urged on by their manager Domenico Tedesco, are moving the ball more quickly now. It was about time they did. A stream of crosses is dealt with, though, and then Angelino overhits one.
56 min: Now Adams can't quite take a ball from the left in his stride. The tempo is up a little bit from both sides.
53 min: Now we might have a game on, and McGregor is forced to acrobatically parry Nkunku's meaty 20-yarder in what may have been the first save of the night.
52 min: More nice play from Rangers, as a smart move down the right sees Tavernier's volley deflect over off Adams. They've moved Aribo up top for this half and he's providing a real presence to play off and hold the ball, getting them up the pitch. The corner comes to nothing but this is encouraging for Rangers.
49 min: Ohhh, close for Kent! Rangers counter and, for the first time in the game really, Kent has a run down the left at his man. He gets into the box, goes on the outside, creates space for a cross-shot and flashes it … wide of the far post and * just * beyond Tavernier. Rangers' best moment by a distance.
48 min: The second half has picked up where the first left off, if you catch my drift.
Peeeeep! Back underway in Leipzig
No changes for either team just yet.
It's West Ham 1-1 Eintracht, in London. And in the Premier League it Manchester United 0-0 Chelsea.
No real saves for McGregor in that half; a few good blocks from his defense and perhaps one squandered chance from Nkunku. Little up top from Rangers, save for one brief spell before the half-hour, but they have hardly been under the pump.
Half-time: RB Leipzig 0-0 Rangers
A non-event of a half, overall – so Rangers should be delighted.